It's November – For the season of the Olympic Bobrun in St. Moritz a very important month. The only natural track in the world is being built by a team of south Tyrolean track workers and the team is waiting for the snowfall to support their work.
The Olympic Bobrun in St.Moritz is the only natural track in the world and also the oldest track in the World that is still in use. The 1722m long track opened in 1904 and has been the event site for a Bobsleigh World Championship 22 times and two Olympic Games.
The track with 19 turns is built within three weeks by a very experienced team of South Tyrolean track shapers. Christian Brantschen from Celerina is responsible for the construction of the track since 1990.
It's November and the responsible parties for the construction are for sure happy with the large amount of snow that is dumping in the Engadine at the moment. From mid-November shaping will start. Even that each turn is exactly defined the track differs each year due to the hand shaped work.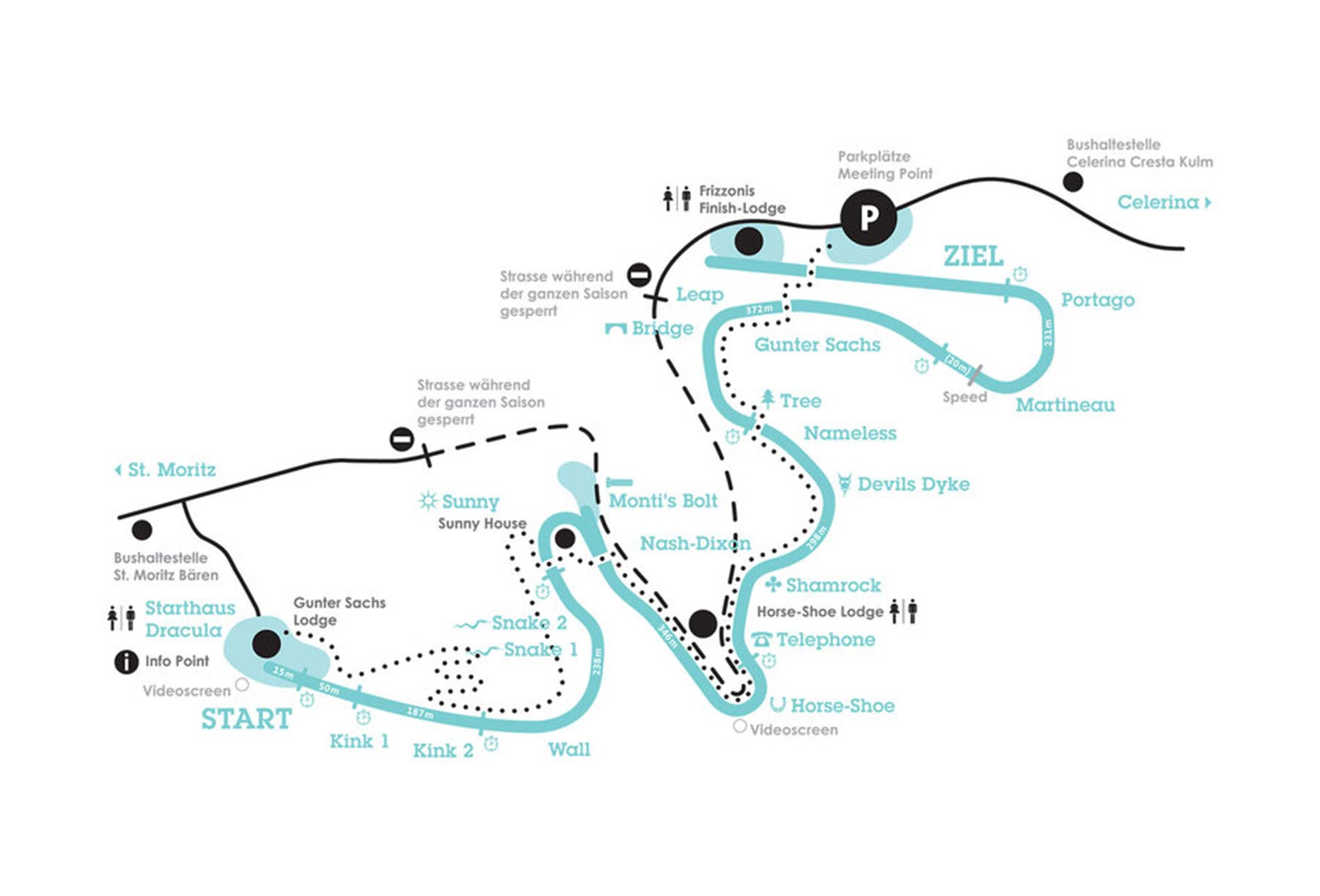 Construction starts at the Sunny Corner. The team builds the track towards Horse-shoe and on until the finish line. Once this part is done, the starting line to sunny corner finalizes the track. Once this rough shape is done, the team splits and each member of the builders is responsible to fine shape a part of the track and maintain his piece of the run.
15'000m3 snow and 7'000 m3 water are needed. Today's workers benefit of course from the technical development over the past 100 years. Trucks help with the transport of snow and a traxcavator helps them to gather and pile snow. For the whole process no chemical products are used and this makes the Olympia Bob Run in the Engadine Valley the most ecological bob track in the world.
To experience the adrenalin-kick first hand, visitors can join a guest ride at the Olympia Bobrun. Safely seated between pilot and break-man the ride takes you down the 1722 meter long ice track – the largest ice sculpture in the world. At speeds of up to 135 km/h the ride takes about 75 seconds and is sure to get your adrenalin level up and your heart pumping. We will be happy to arrange this special experience for our guests. For additional information visit the Olympia Bobrun Website.
In the Bobmuseum St. Moritz-Celerina you can learn a lot more about bobsleigh, skeleton and the Olympia Bob Run.
Opening hours:
Mid of June – Mid of October
Tuesday | 5 pm – 6 pm
For groups: please call the indicated telephone number
Location:
Giassa da Scoula 6
CH-7505 Celerina
+41 81 830 00 11